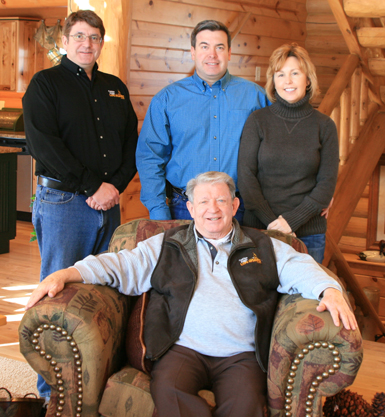 Our Family Business
Golden Eagle Log & Timber Homes is a family business that grew from a successful building supply company to a premier log and timber home manufacturer. In 1966, Wally and Marlace Parmeter founded Golden Eagle Building Center in Wisconsin Rapids, Wisconsin. With the knowledge that they obtained from building conventionally-framed homes and an in-depth understanding of the building products industry, the Parmeters decided to pursue their dream of building a log home, in which to raise their family.

The Parmeter family individually selected trees from their personal property and carefully cut and dried the logs to their preference. After a year of careful preparation, the Parmeters began construction on their log home. The construction did not go unnoticed by on-lookers. The Parmeter family was approached by many people who were impressed by the quality craftsmanship and beauty of the log home. The dream of living in a log home led to a new arm of the business: providing custom log and timber home packages.

Wally and Marlace's sons, Tod and Jay Parmeter, ran the thriving building center throughout the day and manufactured log and timber homes long into the night. During this time, the company-wide "board meetings" consisted of the Parmeter family sitting at a picnic table outside their own log home. The Parmeter family's dedication and love for creating log and timber homes was the reason that the sales from these log and timber homes quickly surpassed the sales from the building center.

In 1986, Wally and Marlace decided to expand the home production side of their business by officially founding Golden Eagle Log and Timber Homes. Tod and Jay cleared more land, built larger shops, tripled their log inventory, and installed new machinery. These steps were deemed necessary to provide the clientele with greater options, superior quality, and quicker manufacturing times.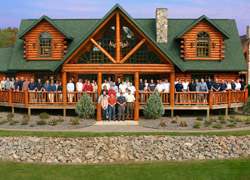 A Second Generation of Craftsmen
In 1996, Wally and Marlace retired and left their business in the more-than-capable hands of their sons, Tod and Jay. To this day, Tod and Jay continue to prove their passion for log and timber homes by providing exceptional customer service and superior quality homes at fair and affordable prices.

Golden Eagle Log & Timber Homes limits the production to 100 log, timber, and custom homes per year. This ensures that each homeowner receives the care and top-quality personal service that they deserve. With over 5,000 homes sold since 1966 (fifty-four years ago), Golden Eagle Log and Timber Homes' success comes from a dedicated group of people who are devoted to the time-honored tradition of quality workmanship.

The Parmeters are a hardworking family who believes in the Golden Rule: "Treat others as you want to be treated." Please accept our personal invitation to call our toll-free line or, better yet, visit our professionally decorated model home, our showroom, and tour our world class facility. We will take the time to show you the difference in quality, craftsmanship, and customer service in comparison to our outside competitors.

Jay and Tod Parmeter