Golden Eagle Log and Timber Homes
is a member of the
Log Homes Council

Meet Pat & Lorne and Carol & Mike
Pat & Lorne

>> CLICK TO WATCH <<
Carol & Mike

>> CLICK TO WATCH <<
Customer Reviews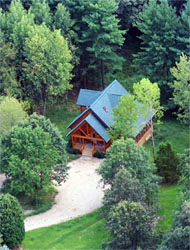 Dear Golden Eagle Log and Timber Homes,
We can't believe that we are finally in our dream home! After ten years of planning and researching different companies, we are happily living in our dream home! The way your people made us feel so at home and comfortable designing and picking everything out was terrific! Their help made it easy to visualize how it would eventually turn out. Thank you!
Dan Truckenbrod and his crew at Nationwide Builders were amazing! They managed to fit the home in among the trees without having to remove many. Their craftsmanship is second to none! He and his people went above and beyond for us. They were extremely organized with delivery of all the different components and kept the job site neat, which was helpful to us since we were living on the property at the time. We would highly recommend them to anyone looking to build a Golden Eagle Log Home!
We are constantly amazed at the energy efficiency of our log home! And were happily surprised to get our first electric/gas bills. Even with all the windows and french doors we put into our plan, it is always warm and cozy in our home.
And still, a year later, we get people who knock on the door that we've never met before, all of them wanting to know about the home and wanting to see it.
Thank you for making such a great product and for recommending such a top notch construction crew!
Sincerely,
Mark and Cyndi
Hi Jan,
I can not express how amazed I am at Golden Eagle Log Home's kindness and understanding.
I would like you, Jay and Tod, as well as John from shipping, to know that I never in my wildest dreams would have thought a company could be so top notch.
Thank you so much for going over and above in all that you do,
Barbara
| | |
| --- | --- |
| | |
To Jeff Heeg
Golden Eagle Log and Timber Homes,
Janet and I (and Dad) wanted to thank you and Derrick and everyone at Golden Eagle for all your help in making our hunting/getaway log cabin project a reality. Everything shown and suggested fit our needs and budget. The coordination and cooperation between Golden Eagle and our builder (Barker Brothers) and us made the project satisfying and virtually stress free.
Every person we dealt with at Golden Eagle (especially you and Derrick) was helpful, friendly, and knowlegable.
Having met and spoken with the owners of Golden Eagle, Jay and Tod, showed me that they personally cared about providing us with a quality home and pleasant home building experience. (and it has been just that)
The selection and quality of materials and products was excellent. During the selection tour in the fantastic Golden Eagle showroom, you explained all of the choices and processes thoroughly and in terms I could understand.
We would recommend Golden Eagle Log and Timber Homes to anyone.
Thanks again,
Janet and Dave (and Dad)
Dear Mike,
It has now been over a year since our Eagle Log Home was completed by your crew. As you know this was a labor of love for me, my daughter Angela and her husband John. We had worked many months with our primary contact Margaret Coffen and other members of your "crew" including your valuable input.
We all worked together, with input from my wife Meg, to plan a barrier free facility that would meet the needs of her disabilities. The interaction and suggestions from Jeff Heeg and the rest of the staff at Golden Eagle Log and Timber Homes was very helpful. They were great with suggestions but let us make our own decisions.
Meg came to the construction site at least once a month during the 2006-07 winter. She got to see the completion of just about everything except the hardwood and tile floors. We were all saddened by her death just before completion, but know she felt good about the construction progress she was able to view. I will always remember how your foreman Ron and crew made sure Meg could see everything possible. They even picked her up, wheelchair and all, and took her to the loft for the lovely view.
Did everything turn out "scratch free" and perfect?  No. Were we satisfied and proud of the final results? You bet! We have been fortunate to have a lot of visitors since completion, both during the summers and winter. All were very complimentary of the workmanship evident in the construction.
Mike, I compliment you, your staff, and crew on a job well done. When we first met we discussed the importance of a company's follow-up on problems. Your staff is to be complimented! There has not been one issue to which they have not given immediate attention. It was a pleasure!
Sincerely,
John G.
Hi Bob,
Craig and I would like to thank you for all of your help when we purchased our Golden Eagle log home material package. You were always available and answered our questions and concerns promptly. We are especially grateful for getting our package out sooner than originally expected and your help in obtaining information for our building inspector (heat loss analysis).
We love our Golden Eagle log home and would gladly refer you and the Golden Eagle team to anyone interested. A great company to work with!
Sincerely,
Craig and Sandy
| | |
| --- | --- |
| | |
To whom it may concern,
While a young boy growing up in the country, I had a dream that some day I would like to live in a log home, on a lake, and in a country setting. Golden Eagle has made that possible. My wife and I are very happy with our log home. From the start of this project, I can't say enough about the assistance that I received from Kurt and Kim Brown (Representatives) of Golden Eagle. Kurt was there every step in the process in ensuring this project was on track. He always answered my questions and never delayed any requests. A true testament for the service Golden Eagle Log Home provides. Even when the original builder defaulted on the building process, Kurt was able to put me in touch with Mark from Spring Creek builders. When they arrived on the job site there was no delay in getting started amidst cold wintry conditions. Our home is beautiful in many ways. Thanks to Golden Eagle and their staffs (sic) in making this dream come true.
Jeff & Laura
Proud log home owners.
Thanks again.
Our Golden Eagle Log home is absolutely beautiful. Dwight and Mary Klein gave us great customer service and guided us through all the planning and building. If we had questions they had the answers or the sources to answer them promptly and thoroughly. Dwight and Mary assured us Golden Eagle Log and Timber Homes were of high quality and they were not mistaken. Every aspect of our log home has been more beautiful and grandiose that we ever expected.
Thank you Dwight and Mary!
Judy & Keith
Jeff,
I can say that both Ellen and I enjoyed working with you and the Golden Eagle team. You were always very good at answering our questions thoroughly and promptly, getting us in touch with others at Golden Eagle when necessary and generally making the experience enjoyable.
I have gone through the house building experience before and I know first hand how difficult it can be at times. Our experience with Golden Eagle and Barker Bros. construction was outstanding and we could not be happier with the home we have as a result.
Regards, Jim
| | |
| --- | --- |
| | |
Dear Future Log Home Builder:
Before endeavoring to build a log home,I traveled the entire Midwest interviewing and questioning every log home builder I could find. Then I went to home shows in three states and questioned them all again.
They all have a product, they all have answers to your different questions, and they all assure you they can build you the home you are looking for.
I felt after all the search that Golden Eagle were the right people for the job. They had all the right answers and a showroom and a process that made it easy.
I drew my own plan...on a back of a napkin no less...and the folks at Golden Eagle produced a plan...showed me...what in a few areas, might work better...without even bruising my ego...and then gave me the names of three builders in the area where I wanted to build, that they were confident could do the job.
My home as of this writing is 98 percent finished and I could not be happier. It is excellent. And no hassles along the way. Even my builder told me he thought they were so easy to work with and the product was always on time and better then he expected. He had built 4 or 5 for Golden Eagle homes before he got to mine.
Long and short, I MADE THE RIGHT DECISION. YOU OUGHT TO USE ALL MY HOMEWORK AND TRAVEL TIME AND MAKE THE RIGHT DECISION ALSO.
I did not get a dime for this testimonial. I just know how hard it is to filter thru all the crud...and I have done some building myself in Milwaukee.
Sincerely,
Mickey R.
Well, you helped our 17 year dream finally come true! We have been in our Golden Eagle log cabin for three months. We absolutely love it! The quality of the home is outstanding. Every detail has been well thought out. Smokey, you worked wonderfully with both our builder and with us. Our builder highly complimented the service you had provided during the building process. I never thought building a home could be this simple!
I wish you and your company much success! You are truly a pleasure to work with and excellent at what you do!
Warmest Regards,
Paul & Patricia
I am writing to you today to thank you for a job well done on our new log home in Wisconsin. This accomplishment, however, could not have been made possible without our contractor headed by Chad Oczachowski of Lakeview Log Homes, who was recommended to us by Patti Urban, one of your sales associates. Chad and his men are a crew who truly find pride in their trade, a trait often hard to come by today. Chad and his crew executed the building of our new home in textbook fashion, completing all tasks in a time efficient manner and with stunning results. We will continue recommending Golden Eagle Log and Timber Homes, as well as Chad, in the area. In this new year and many more to come, I hope that your sales associates will keep Chad and his company on the "radar screen" for future jobs as he and his crew do a magnificent job.
Sincerely,
Antoni & Barbara
Dear Golden Eagle Family,
Our Golden Eagle Log Home is so awesome - we just had to write and tell you about it!
Scott has always dreamed of living in a log home. Two years ago, with a plan to leave California and become full time Wisconsin residents, he started sketching an original design home plan for our newly acquired property near Castle Rock Lake. We submitted the design, but alas, the building plan came in too high for our budget. It is because of your excellent customer service and commitment to clients that set Golden Eagle apart from other builders we interviewed. So we didn't give up! We searched through Golden Eagle plans and found possibilities in the "Rocky Mountain." With the exclusion of the 2nd floor, the plan was very close to our design and some features were more than we imagined. Your staff has been easy to work with, taking the time and patience to show us all the options, redesigning this floor plan to meet our dream.
Our salesman, Tim Helgren was available to answer questions and made it easy to solve issues when they occasionally appeared. Jamie Lindemood was such a complement to the overall project and her ideas made such a difference. Putting it all together from a thought, to paper, to the roughing in, to picking out colors and designs, and finally to the finished project - we are very proud of our new home. We have been so pleased with our "Golden Eagle Experience."
We thought it would be difficult to manage this building plan because we lived in California, over 2000 miles away, and needed to rely on a trusted and reliable builder. Your recommendation to use Creative Builders, Inc., working with Mike Horak and his staff was most excellent! They were professional, innovative, and timely efficient people. Their constant communications kept us informed along the way, with regular progress reports whenever a question arose. Both Golden Eagle Log and Timber Homes and Creative Builders have truly TEAMED UP and delivered our home in a fashion to be proud of for years to come.
We LOVE the reactions from our friends and family, and even the craftsmen who spent time creating our home. They are usually in awe and Golden Eagle's name has been spoken in a truly pleasant and professional manner.
Today and in the future, we hope that you'll consider us as one of your best recommendation resources. It is our goal, and we would be thrilled, to be on your scheduled Tour of Homes.
Thanks to you , our "Dream Home" has come true.
Scott & Cheryl
New Lisbon, Wisconsin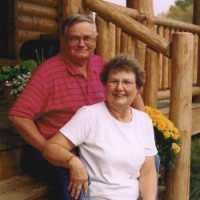 Attn: Tod Parmeter
Dear Tod:
Today we passed the final inspection of our Golden Eagle Log Home. Move in will be this weekend. Both Bernie and I want you to know how much we appreciate the professional way this project was handled. The quality of the products allowed us to build our dream house without a lot of upgrades. Your materials were top quality and delivered on time. Your personal interest in the planning of this house made it fun to develop and the outcome speaks for itself.
As you know we spent two years before we started this house and visited a lot of log homes. We went with Golden Eagle for quality, great working relationship and cost. If someone asked me for the most important reason it is that your package is the most complete package in the market. You supplied everything for the house including door hardware, plumbing fixtures etc. This made the job easy.
Thanks again for the job you have done and feel free to have potential customers give us a call.
Very truly yours,
Russ & Bernie
Jan and I would like to express to you and the entire Golden Eagle crew about how happy we are with the way our home turned out.
Inside and outside everything is just beautiful. The quality of materials used is excellent. The windows are well constructed and the grids give it that true log home look. The pre-finished trim and doors are glass smooth and just the color we wanted. Plus they are better than we could have done ourselves.
Tim, you were extremely helpful throughout the whole process and got back to us quickly when we did call. Adrian in the design center was always there too to give us an answer in regards to the kitchen and bath or our lighting needs. John Batzer was our first contact and he helped ease us into the log home building process. He suggested the layaway plan and that was perfect for our needs. This all started in October of 2000 at the Log Home show in Milwaukee as we were leaving the show. We happened to pass the Golden Eagle booth and talked to John. The booth wasn't in the best location for traffic, but I'm sure glad we stopped as John gave us a brochure, we then visited your factory and model several months later, signed a contract and the rest is history. Its been a long process but well worth it.
When anyone asks about our home, I always mention that Golden Eagle was the log home company we chose and why. We found out that your prices and service can't be beat by anyone.
Thanks again.
Mark & Jan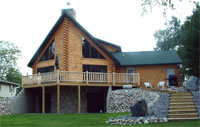 I wanted to take a moment and give a sincere thank you to Golden Eagle Log and Timber Homes for designing a beautiful custom log home for us on Lake Camelot in Wisconsin. This was a unique situation for my wife and I, as we live in Illinois, and had to rely on John Batzer of Golden Eagle, and Art Bottensek, of Bluffview Construction to make design decisions and changes with their own experience and expertise. We would trust John and Art to build another home for us in the future. Please feel free to utilize us as references, as well as show pictures of our home.
Sincerely,
Mike and Beth
For years I envisioned living in a log home, but I really didn't think this would ever happen. Golden Eagle Log and Timber Homes made this dream come true. I researched many different log home companies, and Golden Eagle Log and Timber Homes was far and away the best value for the price. It seems like other log home companies believe that they can charge you "extra" because your building a log home, but that isn't true with Golden Eagle. I found the staff at Golden Eagle to be friendly, responsive, and "family" like. They made the building experience enjoyable, despite the stress of building a new home. I would like to thank all of them for their help, especially Jay Parmeter. Please feel free to include my thoughts to others building a Golden Eagle log home.
Thanks.
Sincerely,
Doug
Dear Jay and Todd Parmeter;
It was the year 2002 when my girlfriend and myself decided on going ahead with our "Dream", building a Log Home.
It all started when Karen, my fiancée began doing research of Log Homes companies some 4 years ago. After subscribing to numerous magazines with many articles, stories, and advertisements she went ahead and signed us up on a tour of homes with Golden Eagle Log and Timber Homes in Wisconsin Rapids, Wisconsin in 1999. After attending the tour and visiting with the employees and owners of some of the homes and several of their customers as well, we became very excited and impresses with all that we had seen that day.
Over the next few years we visited several other log home companies using the information we gathered from Golden Eagle for comparison. After comparing configurations and what other companies had to offer, we kept returning to our favorite layout and what Golden Eagle had.
We chose the "Eagle Point" plan and made a few of our own modifications. From our very first visit with our sales rep Robert, through the whole process they make everything so easy for us. Nothing was a problem for Golden Eagle. We also chose to do all the contracting ourselves which was an experience to say the least! I must say we were blessed through the whole process, we had the best salesperson, the best company to work with and the best builder.
We welcome anyone to call us or stop by if you're in the Chippewa Valley to see our home and why we are so proud to say "We have a Golden Eagle Log Home."
Sincerely,
Tom and Karen
Cadott, Wisconsin
Well in 11 months we've gone from signing a contract to moving into our Golden Eagle Log Home. To say that we are excited and overjoyed is an understatement. Our home looks awesome! To be sure there were some bumps in the road, but they were expected and overcame with your help and the help of all your crew... Both John and you, Jay, were very helpful and understanding in dealing with our changes. We appreciate all that you both did in getting us in our home in 120 days.
Sincerely,
Paul
We just wanted to express our thanks for all of your help in building our new log home at Lake Arrowhead. Marion and I have enjoyed the experience (which isn't always the case when building) and we are very happy with how the home turned out. Everyone who has seen it is impressed with the quality and design. We know we made many changes throughout the process to get what we wanted in our dream home and you all responded so well to each question or request.
We feel like we know you all as friends now and hope to continue to see you from time to time. Please stop out at the house and see our current progress at any time as we finish the details and start the landscaping.
Once again, Thanks.
Tom and Marion
Thank you for your every effort to take care of our needs. Your response was fantastic to our many demands. As this was a new venture for us, we bought our first home as a completed "spec" house, building this "new" home was an experience I never had, or anticipated, and I probably created many obstacles to overcome, but, all seems "minor" now, particularly due to your assistance.
My thoughts of appreciation and thankfulness are extended to you and all of your employees. I definitely met many very nice people in this venture at Golden Eagle.
Thank you for everything,
Art
| | |
| --- | --- |
| | |
I just wanted you to know how pleased we have been with Golden Eagle and especially your cooperation and information. We are getting married in September and were going to "settle for" a manufactured home on our property until we could afford to build our log home. We always said to one another "someday". Well NOW is that someday and I can't believe it is really happening!! We had met with several log home dealers in our area and they were so negative in telling us we couldn't really afford a log home, not to mention how pushy they were to get an answer from us right then and there!! In searching websites, we found yours and we were very pleased with what we saw! Our experience dealing with you has been wonderful and you are always prompt in answering any questions we may have! Although we are on an extremely tight budget and our "Lake View" log home will be small, it will be cozy and a "dream first-time home"! Thank you so much Tod for helping up and working so well at such a far distance. We really appreciate you and your dedication to the company!
Shelby
The cabin is done! Thanks John, for all of your extra efforts! The cabin is beautiful!
Judy and Joe
Thank you for the beautiful home. Larry and I are very happy and appreciate all the hard work from Golden Eagle and R. P. Construction.
Thanks again,
Pam and Larry
I just wanted to drop you a line to tell you how happy Barb and I are with our new home. The experience we've had cannot be more satisfying. We have had the privilege of seeing our home built from the ground up. This home was our dream and we were on hand to see our dream come true. The service and personal attention that you paid to us cannot be overstated. We sit in the great room during the winter with a fire going and we realize how good we have it. The construction and quality that have gone into this home would be hard to match. Three months after the completion of our home, the contractor called to ask what problems we were experiencing so that they could be addressed. The only problem we had was a somewhat noisy ceiling fan. He contacted you, you sent a de-hummer via special delivery and the problem was solved. You people sell, deliver (on time always), service, and follow through on your product. If I were to build another log home it would certainly have a Golden Eagle logo on it. Thank you so much for the service and personal attention you have provided us in achieving our dream.
Bob & Barb
Dear Jay,
We have finally moved into our home. The great room and kitchen, guest bedroom, and bath are done. We still have a lot of work ahead of us; the loft and downstairs family room, utility, and mudroom. But we have all winter.
We enjoyed working with you and Golden Eagle Log and Timber Homes and would certainly endorse your products.
I thought you might like to see these pictures -and will have more of the inside. You are welcome to come see us anytime you are in the area.
Thanks again for all your help Jay,
Sincerely,
Beverly
---
Hundreds more reference letters are available for you to read,
just visit us at the headquarters in Wisconsin!
---