| | | |
| --- | --- | --- |
| | Log Home Package | BACK TO TOP |
Click on the question to reveal the answer.

Why should I buy a Golden Eagle Log and Timber Homes home instead of a different brand?
You want a high quality log home package and don't want to overpay.
You want the most complete package and you don't want any surprises to pop up after it is too late.
You want the most complete package because you don't have a lot of time to waste shopping a hundred different stores.
You want a complete package, so all things fit and work together and if they don't it is our responsibility.
We are not high pressure, we aren't going to talk you into a full log if you really need or want a half log. We offer both so it is your choice.
You want quality kiln dried logs.
You want to buy from people who want to help you, appreciate your business and will service you in the years to come.
You want a log home company who can customize standard plans or draw completely new plans and not pay extra in the end for that. You want kitchen and bath designers on staff to help coordinate the finished project.
You don't want to be tricked by some slick salesman. You want to be told the truth even if the truth doesn't sound as good.
Golden Eagle is owned and operated by brothers Jay and Tod Parmeter of Wisconsin Rapids, WI, not some overseas corporation or conglomerate. We actually work 6 days a week at Golden Eagle Log and Timber Homes, we actually live in a Golden Eagle Log and Timber Home, and can actually be reached if you have a problem before, during, or after the sale.
We are flexible. If you want to deduct something out of our complete package, for example your brother is a cabinet maker, we can deduct them and credit your account for them.
We listen to you, your needs, and wants. It is not about what we want; it is about what you and your family wants.
Why do you have such a complete log package?
It is really simple, we listened to you, the customer. Here is how it happened and here is how we were able to accommodate our customers.
When we first started selling log homes, we also owned and operated a building center. We set up our first log model home in the parking lot of the building center and when potential log home customers came in and asked how much the log home was, we told them $22,000.00 and they said "Great! We want one!".
Then they asked does that include the kitchen cabinets, the bathroom fixtures, the fireplace, the closet shelving, the trim, and prehung doors etc.? And the answer at that time was no. We found people wanted the whole package, not just the shell. Because we had everything available in the building center to make it a complete package; we started to include everything in the package and the rest is history.
Why is buying a complete log home package best?
With a "complete package" all the components will be compatible. Your doors, windows, cabinets, plumbing, vanities, etc. will all be the right size, right color, and will coordinate throughout the home.
Speaking of windows, let's say you buy one house full of windows once in your life, or one kitchen once in your life and then you have trouble with them. Who do you think the manufacturer will help more? The customer who bought from them one time and will never buy again, or Golden Eagle Log and Timber Homes who purchases over 100 houses full of windows or 100 kitchens every year.
With a complete package you will know what your total costs are.
Our customers have an almost unlimited range of choices while choosing their package. Visit the Bertch or Homecrest Cabinetry websites just to see the kitchen and bathroom cabinetry available to our customers.
With an incomplete package no one party will know the whole project and many things can get overlooked and forgotten until the end, then things get tense.
Golden Eagle has customer service staff to handle any situation that may arise. A complete package from Golden Eagle Log and Timber Homes will simplify your life.
Why are your prices lower than comparable high quality companies?
We buy direct from the manufacturers. Truckloads of lumber, OSB, shingles, windows, cabinets, stone, etc. are purchased to eliminate one markup in the buying process. The end result is a less expensive home for our customers.
I understand Golden Eagle Log and Timber Homes includes the garage in the "Complete" Package if one is shown on the plan. My question is... How much can I deduct if I don't need a garage?
You can deduct approximately $14,000 to $18,000 depending on the size, log style and window configuration etc. Don't forget... You will also save approximately $7,500 to $10,000 in carpentry labor and concrete floor/footings when you build your home.
What type of Quality can we expect?
We limit our sales to 100 homes per calendar year. This is done so we can maintain our top notch quality and service. By limiting our sales, each home buyer can receive the time and energy they deserve, and it allows us the time to do things right. If you happen to be buyer #101, #102 etc. you may have first choice of delivery dates in the next calendar year.
What species of wood do you use?
Our price lists are based on Eastern White Pine. We choose it because it has the best looking wood grain and knots. The grain is sharp and clean.
We have tried many other types of Pine, Red Pine, and Norway Pine which tend to bleed pitch even after it is kiln dried. We find the Eastern White Pine is much more resistant to rot. Southern Yellow Pine warps and is not attractive.
Other species you can request are Douglas Fir or Western Red Cedar.
There is an optional finished lower level (basement) shown on the home plan I like best on your website; are those basement building materials included in the materials package?
All lower level (basement) building materials would be an extra cost to the package pricing you see online. We show optional finished lower levels to help our customer imagine what could be done with that extra space. We strongly encourage our customers who are on a budget to consider finishing their daylight basements in lieu of making the footprint of the home larger as it is much more affordable.
| | | |
| --- | --- | --- |
| | Construction | BACK TO TOP |
Click on the question to reveal the answer.

Do I have to find a builder to build my new log home?

Yes, ultimately you need to choose a builder. In most areas Golden Eagle can offer you contact information for three or more experienced log home builders. We would encourage you to call their references, meet them in person, and decide for yourself it you are compatible. Do not choose a builder solely on price. When choosing a builder you want a good communicator, someone who listens to you, will call you back, and of course does high quality work.

How do you run the electrical wiring in a Golden Eagle Log Home's full log home?

First of all, imagine that on a Golden Eagle full log home, only the first floor exterior walls are full log. Gable ends, dormers, ceiling cavities, sub floors, garage firewalls, garage walls, and all interior partition walls are conventional 2 x 6 construction. So there are few actual full log areas. But in those full log areas we have three methods for running electrical wiring.
On the "D" shaped homes you can hide the wires in an 8" tall baseboard and switches can be hidden behind the 6" wide door trim.
On double round full logs we recommend drilling up as you build the wall. This can be done on the "D" full log too!
How long is my log home going to last?
Like any home the lifetime of the home depends on the care the owner puts into it. If you build it right, and properly take care of it, it will last generations.
In Scandinavia there are log homes that are more than 1,000 years old and are still in excellent condition.
Do I need to do something special for settling when I install my kitchen cabinets in a Golden Eagle full log house?
No. Because Golden Eagle provides only dry logs, the cabinets can be screwed directly to the log wall.
How long does it take to build a Golden Eagle log or timber home?
In most cases:
3-4 months to build a 1,400 - 1,800 square foot home
5-6 months for a 1,800 - 2,100 square foot home
6-9 months for a 2,200 - 3,200 square foot home.
But basically, it depends on how large of a crew your builder has and how difficult the house is to build, etc.
Do you leave a settling space over your windows and doors, and why if your logs are so dry?
It is just an insurance policy. The trim hides it and it is insulated and flashed. so it is a good idea. Just in case, we also slot the window and door bucks. It's better to be safe than sorry later.
What length logs do you use?
Great question! Both our full logs and half logs are up to 16' in length. Some companies only offer up to a 9' length. Shorter lengths mean too many seams in the wall.
Is it true that you have the best method to seal around windows and doors?
What is ICC-400 compliant? Is Golden Eagle Log and Timber Homes ICC-400 compliant?
ICC-400 is the International Code Council's standards for milled log construction. Achieving ICC-400 compliance is an indication of the quality of design and construction in a log home.

For example part of the standard pertains to wind shear calculation in milled log homes. Meeting ICC-400 compliance ensures that the construction of your log home walls will withstand wind forces that would pull a non-compliant wall apart.

Golden Eagle Log and Timber Homes is one of only a handful of manufacturers to achieve ICC-400 compliance.

| | | |
| --- | --- | --- |
| | Financial | BACK TO TOP |
Click on the question to reveal the answer.

What options do I have to make my home even more luxurious?

Your options are unlimited. Whatever you desire. Here are a few popular upgrade ideas:
Professional grade kitchen appliances with warming and cooling drawers or even beverage and wine coolers.
A walk-in pantry with lots of storage for food and small appliance organization.
Finish your garage walls, floors, ceiling and add cabinets or storage systems. You can even add a hybrid/electric vehicle charging station!
Have your mantel and log posts custom hand-carved.
Expand outdoor living spaces with optional radiant heat and a fireplace or maybe even a wood-fired pizza oven.
Add a room for your hobby or just for your personal space.
Consider a spa-style master bath with heated tile floors, towel warmer, and heated walk-in shower with no doors.
Make your own electricity by adding a solar-panel shingle system, solar panels or wind sphere or windmill.
Protect your family with an emergency back-up generator for storms and emergencies.
Smart-wire your home for cable, internet, phone, speakers, home theater, alarm/surveillance, automation, web-cams, etc.
Add more living space or a secret hideaway/safe room under the garage floor by using a spancrete floor system.
Add toasty warm in-floor heating for every floor in the home, basement, garage and even the sidewalk. They can be zone controlled for energy savings. Or add solar hot water panels or an exterior wood boiler to be more green and energy efficient.
Increase your wall height, add cathedral ceilings to rooms other than just the great room.
Add a room for special sports equipment & storage like snowmobile clothing, ATV/cycle gear, hunting gear, etc.
Theater rooms, arcade rooms, indoor pools, wine tasting rooms, indoor firing ranges, you name it and we can do it!

How do I get a rough idea regarding cost and what my home will cost to build?
The following page on our website explains this very well:
How does the financial transaction with Golden Eagle Log and Timber Homes work?
If you want to place an order for your new Golden Eagle Log and Timber Home package you need to know about our 10/50/40 payment schedule. Let's use the typical $150,000.00 package example. Here's what you need to know:
The minimum down payment is 10% of the log home package price. To process the order, we must receive the 10% down payment of $15,000.00 from you (or your lender) in the form of a cashier's check, wire transfer or cash. This leaves a balance due of $135,000.00, not including any change orders you may have.
Golden Eagle Log and Timber Homes must receive a certified check or wire transfer for the amount of $75,000.00 (plus any change order payments that are due) at least three business days before the truck departs with your first shipment. This amount is 50% of your log home package proposal.
When the "rough-in shipment" (exterior doors, plumbing fixtures, fireplace, split log, windows, etc.) is scheduled for delivery, Golden Eagle Log and Timber Homes must receive the remaining 40% due, which would be $60,000.00 (plus any change order payments that are due), in the form of a certified check or wire transfer at least three business days before the truck departs with your shipment.
If you will be financing your home, please contact your lending institution to confirm they will comply with the log home package payment schedule. Some larger financial institutions use title companies to disburse your money. Some title companies may hold (invest) your money for up to three weeks without paying subcontractors. One reason why Golden Eagle Log and Timber Homes can offer such competitive prices is that all our customers pay three business days before delivery. If your financial institution is unable to comply, we can help you find one who can.
Why should I tell the salesperson what my real budget is?
We can point you in the right direction for size and amenities. This saves you money and saves you from the heartache of having to later change your dream.

Are log homes a good investment?
Yes, log homes appreciate much faster than regular homes, so they are an excellent investment. The sooner you build the better. Building costs, and interest rates, are low and builders are offering better rates right now!
What about financing my new log home?
If you haven't heard; the banking system is a mess. Are people still getting home loans? Yes. But you need to realize bigger down payments are required and home appraisers are being more cautious and often over cautious. We are noticing the smaller local banks have been easier to work with lately. Contact your Golden Eagle sales representative and they will help guide you in the right direction. But please talk to local banks and credit unions about getting pre-approved to see what their qualifications are. If you were pre-approved a year ago things have changed and you need to get pre-approved again.
Why should I get pre-approved for a loan? And when should I speak to a lender?
Don't presume anything. In today's world; unless you are a cash buyer; you need to find out what your current property (that you're going to use as collateral) is valued at so that you and your bank can determine your budget.

For most people, they should speak to a lender before they invest in having their home professionally drawn on paper. What you are looking for is a pre-qualification based on a review of your income and expenses, which determines your debt-to-income ratio. This pre-qualification will give you an idea of what you may be able to borrow before the formal mortgage application begins.
What key questions should you ask your local lender?
Make sure they are providing new construction loans. Have they made any construction loans in the last 3 months? Some lenders have become pretenders since the banking crisis of 2008.

Ask them if they are accepting of the Golden Eagle payment terms regarding the material package. We can provide you a copy of this information so that the lender has all of the questions answered. If they won't pay for the materials per our contract terms, then you should look elsewhere.

Ask them about appraisal fees, rates, terms and if there are any other financing fees associated with getting financing through their company.

Ask them how long it would take to get financing put together once you begin the process.
Is Golden Eagle Log and Timber Homes a financially sound company?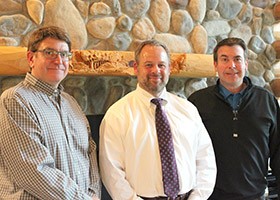 Pictured here are Jeffrey A Meyers, Wood Trust Bank (left), Jay and Tod Parmeter, Co-owners of Golden Eagle Log and Timber Homes. Feel free to contact Jeffrey at 715-422-0323 with any questions.
Yes we are. We have been around since 1966, and have lived in the same small town our whole life. We encourage you to call our banker if you are at all worried. We wanted to put this question in here because some people forget how important it is to deal with a reputable company. You don't want to deal with a log home company that is going to go broke halfway through the construction of your home. Make sure they have the means to satisfy you. Look at how much inventory they have. Visit several plants, look at their manufacturing facility, and how their warehouse, model home and grounds are kept up. Look for red flags. You are going to give some company a lot of money for a package, so be sure they have the means to provide all the materials you will need to complete your log home.
Is finding insurance difficult for my new Golden Eagle Log or Timber Home?
No problem and the prices are comparable to regular homes. Be sure to take out your policy before any work is started on your property.
Talk to your agent because you want to protect yourself from liabilities such as curious neighbors falling into your basement, or worse. You should also make sure any and all sub contractors who will be working on your log home have a certificate of insurance. Don't be shy to ask. If they are reputable they won't mind that you have asked to see it.
I need more bedrooms, but don't want to build a huge home. What can I do?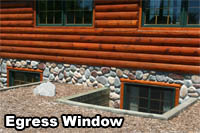 Many of our customers create additional bedrooms in the basement. Larger windows, called Egress windows, would need to be installed to meet building code requirements. These windows not only allow natural light in, but also provide a fire escape.
Modern basements are insulated, warm and dry, have high ceilings, and with large windows or a walk out wall are cheery and comfortable.

I want a log home but I think we should save some more money and build in a few years. What do you think?
Why wait if your kids are still living at home. Let them enjoy your new log home too! If you are near retirement age and the kids are gone, why not build it to vacation in now and retire later.
Here is a true story-
A young couple came in and we priced an Eagle II for them. After seeing the price they decided to wait to build so they could save some money. For three years they rented and were able to put $15,000 in their savings. But when they came back the price of the home had gone up $18,000, so all of the money they had saved lost all of its buying power due to inflation. Don't wait, let's get started today!
Should I hire a loan broker to help me secure a loan?
We don't think you need to do that. We can only think of two customers that ever hired a loan broker and it took just as long to get their loan as customers who didn't hire a broker.
How much does it cost to have custom or customized study plans drawn?
The following page on our website explains our plan service very well:
How can I lower the cost of my dream home to stay within budget?
Here are a few ideas:
While keeping the livable square footage of the home the same, consider making the footprint of the home smaller and finishing off the basement. This one maneuver that can save you $50,000.00 or more. Modern basements are insulated, warm and dry. They have high ceilings with large windows or a walk-out wall. Your finished lower level can look every bit as nice as the rest of your home.
Our Complete Half Log Home Package includes authentic looking butt & pass, dovetail or saddle notch corners. You can use vertical log corners instead and save a couple thousand dollars or more.
In our Complete Package, we include stone going up the entire chimney -- inside and out. Reduce the amount of stone to simply the mantle height and put tongue & groove pine over the chase. This way could save thousands of dollars in labor and materials.
Downsize your home. Look at your floor plan. What rooms in the home are you really going to use the most often? Every square foot you reduce will help the overall price go down.
Many of our plans are shown and priced with attached garages. If you don't need a garage, because you are going to have a big out building, deduct the garage from your plan. This will save you $15,000.00 (more or less) in concrete, materials and labor.
More drywall on the inside of your home will save you money. When it doesn't matter to you if it's drywall or tongue & groove -- go with drywall. Drywall costs less in material and labor versus using tongue & groove pine or half log.
Do some of the work on the home yourself. Negotiate a reduced price from the builder for some of your sweat equity. For example, you could clean up inside and outside the jobsite daily. You could stain or caulk. Putting up the closet shelves, insulating, painting drywall, etc. Speak with the builder and see what you could do to save money. It could range from hundreds to thousands of dollars!
In our Complete Package, we include our kitchen and bath cabinets with real wood dovetailed drawers. By substituting a laminated particle board drawer -- you could save hundreds of dollars.
Our Complete Package includes solid 6-panel pine wood doors. We can exchange these doors for flat, hollow core, real oak or birch wood. This would save you hundreds of dollars or more. If you were interested in upgrading to these pine wood doors down the road, the option is always available!
Our Complete Package uses round log railings inside and out. We can substitute the round railings for squared pine on the interior and squared, treated balusters and posts on the exterior of your home. Depending on how large your home is, this can save you hundreds to even thousands of dollars.
The Discovery Channel has a show called Timber Kings*. The log homes on this show seem very, very expensive; how come?
There is a lot to this answer so we will try to make it as short as possible...
First of all, the log homes on the Timber Kings show are handcrafted; meaning they are the natural shape and taper of the tree. Wider at the butt end than at the top.
Due to the variance in sizes and shapes, handcrafted homes need to be pre-built at the log home manufacturers yard and then disassembled for shipping and re-assembled at the jobsite which adds a lot of extra labor.
These logs are not kiln dried and are much larger and heavier, so you need a stronger foundation, which adds extra cost.
Handcrafted construction requires chinking to seal the seams.
Handcrafted log homes like the homes shown on the Timber Kings show turnkey for about $750.00 to $800.00 per square foot completely built.
As you can surmise from our cost calculator. Golden Eagle's average is $175 to $225 per square foot.
Then the other thing to consider is the on-going cost of ownership will be higher with a hand crafted log home.
With Golden Eagle Log and Timber Homes your build cost and cost of ownership will come far below the cost of homes like the ones featured on the Timber Kings* show.
* Timber Kings is registered to The Discovery Channel and is in no way affiliated with Golden Eagle Log and Timber Homes.
| | | |
| --- | --- | --- |
| | Builders | BACK TO TOP |
Click on the question to reveal the answer.

Do you have a list of experienced builders in my area?

Absolutely! We have been at this a very long time and can generally offer you the contact information of several builders willing to build in your area. It is your job to decide who you ultimately award the build to.

I have a good friend who is a builder but has never built a log home. Can I get him to build my Golden Eagle Log or Timber Home?

Yes, we always say if the builder is willing to learn, we can teach them how to build our homes. Our log homes are easy to build and our plans are very detailed. If the builder has questions we have a help line that's open 6 days a week.


Why do builders like Golden Eagle Log and Timber Homes so much?

Our plans are fully detailed so builders know exactly how the homes go together and what materials go where. But the main reason is the technical support; the people answering the questions and overseeing the plans have many years experience.

Do you offer any builder training?

Builders are welcome to come in for a plan study session with one of our engineers approximately 2-3 weeks prior to the first shipment. The session and plans will be specific to the home that is about to be built rather than a generic class. The final set of plans which is usually around 18 pages long and peppered with assembly drawings and details will be our index for the session. Page by page the builder and our engineer will pour over every detail to ensure everything is understood. This is also an opportunity for the builder to select what he wants on load #1, #2 etc.

How detailed are the plans that come with a Golden Eagle Log or Timber Home Package?

Very!

Golden Eagle Log and Timber Homes makes it much easier for builders by including very detailed plans.

(Click To See Sample Plans)

. We also have our

Builders Corner

on our website to provide additional details and instructions on how to build a Golden Eagle Log and Timber Home.

Do you have a Builder Support hotline?

Yes! We have a Builder Support Hotline:

(844) 586-0060 Toll Free
Mon-Fri 8am thru 5pm
Sat 9am thru 3pm



| | | |
| --- | --- | --- |
| | Support | BACK TO TOP |
Click on the question to reveal the answer.

Do you have a Builder Support hotline?

Yes! We have a Builder Support Hotline:

(844) 586-0060 Toll Free
Mon-Fri 8am thru 5pm
Sat 9am thru 3pm

What do I do if I am having technical issues with your website?

You can contact our IT department at:

(866) 855-6548 ext 169 Toll Free
Mon-Fri 8am thru 5pm

What do I do if I have sales related questions and want to talk to a "real – live - person"?

You can contact our Sales Staff at:

(800) 270-5025 Toll Free
Mon-Fri 8am thru 5pm
Sat 9am thru 3pm



| | | |
| --- | --- | --- |
| | Miscellaneous | BACK TO TOP |
Click on the question to reveal the answer.

How warm is Golden Eagle Log and Timber Homes full log wall?

Full log walls offer thermal mass, which is a way of storing energy from the furnace or air conditioner. The log wall stores energy like a battery and releases it slowly.

Do the owners of Golden Eagle Log and Timber Homes live in a Golden Eagle log or timber home?

Yes. Both owners, brothers Jay & Tod Parmeter and their families, live in Golden Eagle Log and Timber Homes. Jay's family is living in the Shenandoah and Tod's family lives in the Ponderosa.

Do you kiln dry your logs?
Yes and we heat treat too!
Golden Eagle Log and Timber Homes achieves APHIS certification meeting Phyto-Sanitary requirements through heat treatment/kiln-dried processes. Sanitizing the logs kills all microorganisms, mold, bacteria and insect larvae. Additional benefits include setting the logs' pitch or resin greatly reducing the chance of wet knots or resin weep providing their customers a product requiring less maintenance. The heat treatment/kiln-dried process is overseen by TPI, a third party inspection agency, that inspects and verifies that the material quality and processing procedures meet both the governmental as well as Log Home Council's guidelines. Golden Eagle Log and Timber Homes continues to be the industry innovator providing only the highest quality products for our customers.

Is distance from Golden Eagle Log and Timber Homes a problem?

No problem! We sell beautiful homes all over the world. With the internet we can even discuss, and make changes to, your blueprint live over the web. We also have a web-based color/product selections system for your kitchen designs. We have sold over 5000 homes in 49 states and Canada. We do not design, engineer, and ship homes overseas.


What if my Golden Eagle Log and Timber Homes salesperson and I just don't "click"?

Once in a while the customer and salesperson just may not mesh or understand each other, but you still want to buy a Golden Eagle log or timber home. Please call Jay or Tod Parmeter and they will find a more compatible salesperson for you.

How about fire in a full log home?

The evidence is that solid log walls have a slower fire spread rate than a stick built home, due to the mass of the logs. Example: which burns faster in your campfire, small pieces of chopped wood or big logs?

Can your standard floor plans be modified or changed?

Yes, Yes, Yes!

We cannot even remember the last time somebody built a stock plan and didnt change something. We have designers on staff full time to help you get your dream log home designed the way you want it.

Tell me about building a log home in the fall, winter, and spring.

The Fall Rush
The fall rush usually starts about August 15th and goes strong until Thanksgiving. In the northern states the ground starts to freeze by Thanksgiving and in Wisconsin, Michigan, and Minnesota when deer hunting week hits the world stops. It seems like all of the builders and subcontractors take that week off. So, if your basement foundation isn't in by then prepare to dig in frozen ground. A tip to keep the ground from freezing where your basement will be is to put a 6" to 12" layer of hay (straw) over the area to be dug with a tarp over the hay. This usually works real good to keep the ground from freezing.

Winter
Why would anybody build in the winter you ask? Actually, the builders and subcontractors are less busy due to the fact that some customers believe you can't build in the winter. The truth is homes are built all year long and the builders and subcontractors need work all year long too! For a winter build you need to get organized in the fall or late summer before the ground is frozen so you can get your perk test done and pull your building permits. It's also the time to get the driveway in and have the electrical power run in too. Don't skimp on your driveway, put in a wide, solid driveway. Yes, it will get torn up a little during construction but it can easily be re-graded when you are done. Delivery trucks and contractors getting stuck in your driveway are not good for morale. Make sure it is wide enough and tall enough for a cement truck. The more curves, the wider you need to make it. It should be 12' to 20' wide and clear tree branches 14' up. You will also need to clear about a 25' area around the foundation of the house for ventilation, and don't forget to clear an area to stage materials. You will need a minimum of two to three thousand square feet for that.
Another term you will hear in late fall is capping the foundation. This is where the basement foundation is put in with just the sub floor system installed. This method keeps snow out of the basement and then the builder can shovel off the sub floor and begin building anytime in the winter or early spring.

The Spring Rush
It is human nature to procrastinate and say we will wait until spring to start building. That is probably one reason the spring is the busiest time of the year. Now let's talk about road limits, or another term is posted roads. In northern climates the secondary roads are often posted to keep heavy trucks off of them when the frost starts to leave the ground. The road restrictions are usually on for 6-8 weeks. Keeping the heavy trucks off the roads when the ground is soft protects the roads. Road limits often keep concrete trucks and our trucks from making deliveries. Spring is usually March 21st, but with road limits and spring rains the spring starts sometimes turn into summer starts. Again, it is just best to start your building plans early. In the northern climates have your foundation poured in late fall so you can have your log home package delivered before the road limits are in effect in spring.

What are Travel Bucks?

Our Travel Bucks program is a way for us to reimburse you for some of your travel costs. We know that if you get to see the love that goes into every Golden Eagle Log and Timber Home, and how special our people are, you will choose a Golden Eagle log or timber home.

Click here for more information

.

Do I need to hire an architect for my new log home?

No. Golden Eagle Log and Timber Homes designs and engineers hundreds of log homes each year. Most architects do an assortment of designs (supermarkets, churches, schools, parking garages) and may never have designed a log home in their career.

Why doesn't Golden Eagle and Timber Homes use standing dead timbers?

Our home buyers want the best, highest quality logs they can get. Standing dead timber is typically beetle kill wood which has been standing dead and been weathered and exposed to the elements for years and years. When a tree is killed by beetles there is sign left behind including bug holes and bug tracks. Top quality logs come from strong healthy trees not dead or dying ones. Our loggers and sawyers select the best heartwood for our log homes and re-sell the sapwood to others. After the tree is harvested we rush to get the log debarked and sawn into timber. This immediate and deliberate action prevents bug and fungi damage to our (your) logs.

Do you design homes that are handicap accessible?

Yes we are knowledgeable in ADA compliant home design and have built many accessible homes.



| | | |
| --- | --- | --- |
| | Timber Frame / Exposed Beam | BACK TO TOP |
Click on the question to reveal the answer.

Can an Exposed Beam Timber Frame have a maintenance free exterior?

Yes

Can we have mostly drywall or plaster on the interior of our home?

Yes. You decide what you want on the inside of your home.

What do the terms Exposed Beam or Timber Frame refer to?

Golden Eagle has two types of timber frame packages:
Exposed Beam: We use the words Exposed Beam Timber Frame when the timber frame home isn't framed structurally with timbers. We can save our customers up to 50% when we engineer and build the home conventionally and then just add the timber or log accents for aesthetics.
Structural Beam: Structural Beam Timber Framing is when the "beams" or timbers create the structural skeleton of the home.
We just want the square timber frame or exposed beam look in the Great Room. Can we do that?
Yes, you can have square or round accents in any room or none of the rooms. This is your customized home. Therefore, you decide what is right for you.
How energy efficient are Golden Eagle Exposed Beam and Timber Frame homes?
Golden Eagle's Exposed Beam Timber Frame home is super energy efficient. It is very common to go with our R-38 wall system and our R-65 roof system. This is approximately twice as much insulation R-factor as the average new home being built today.
Does an Exposed Beam Timber Frame cost more than a log home?
A Golden Eagle Exposed Beam Timber Frame home is similar in price to a Golden Eagle Log Home.
Can we have some Timber accents on the exterior of our home?
Sure, round or square timber accents are common. It's your choice.
I have been tearing out cool ideas when I see them in magazines. Can we use some of those ideas into our plans?
Yes! Show us or tell us about your dream home and then our home designers can tie things together for you.
I want the old fashioned clap board exterior look on the outside of my home, can I get that?
Yes, this is a totally custom home. You can have whatever you want.
Why do people like heavy timber framing and exposed beam homes?
The beauty of the wood beams and big columns are visible and they show strength and a feeling of security.