Weather & Bug Tight Flashing System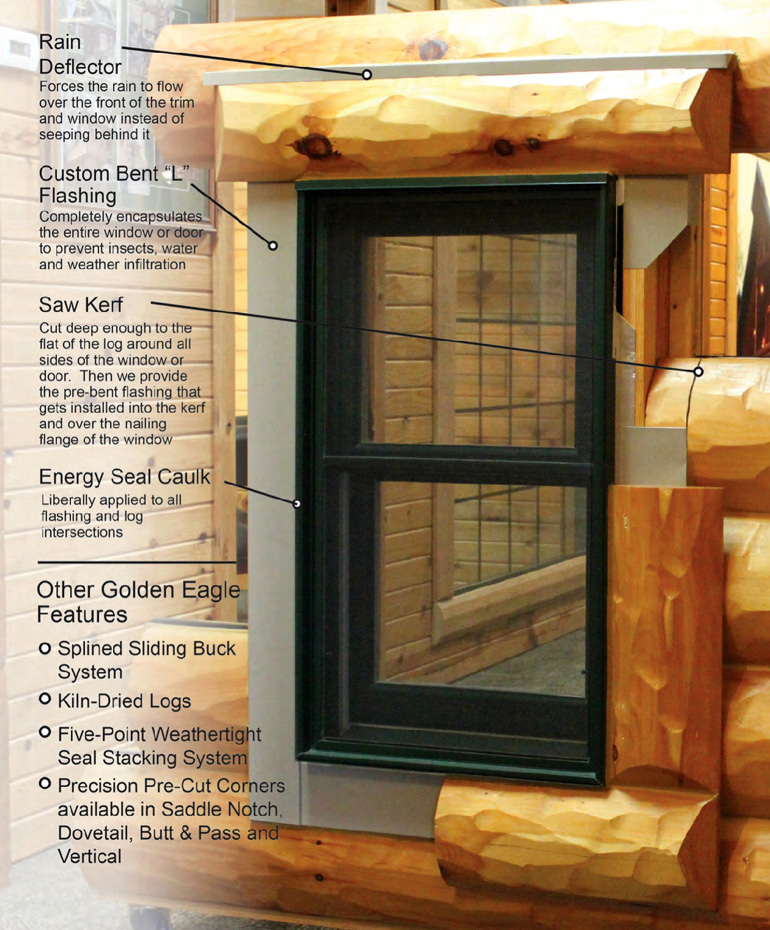 Ladies and Gentlemen... This is important!
Golden Eagle Log and Timber Homes invented and exclusively offers the industry's only weather and insect tight window and door flashing system. This flashing system uses prefinished aluminum flashing under the log trim that has multiple water shed and sealant points. This ensures that water and insects cannot work their way around doors and windows to enter your home.
Most log home companies' exterior trims are only decorative and will fail because of poor seals made by unstable log and trim joints. Our system allows for expansion, harsh temperatures, high winds, and just about anything else Mother Nature wants to throw at it. We cannot state enough that our exclusive system is the only one that offers all these advantages.
How our Weather Tight Flashing System is installed
Watch this video as Bob Strosen explains the benefits for our weather tight flashing system and how it is installed.

This is part of our builder training video series intended to show how easy it is to install our flashing system in a full log home.

As a home owner. You can see the level of detail that we go to while training builders how to build the weather tight systems that only Golden Eagle Log and Timber Homes provides.
Speaking of Weather Tight...
We also have industry leading standards for keeping log walls weather and bug tight. Our system allows for expansion, keeping the walls air tight no matter what season it is.
With most of our full log profiles, we use a 5 point weather-tight seal stacking system that keeps the elements outside and protects your logs.

Points 1,2,4, and 5 are Log Builder Caulk® that expands and contracts with the natural movement of the log.

Point 3 is a compression foam gasket that sits in a routed grove. The gasket provides a highly resilient seal that does not rely on adhesion to keep its seal.

We have several energy efficient wall systems available: Click For Details
This is a more top-down view of the corner assembly.

Notice the 2x4 inch wood spline that strengthens the corners as well as provides an even better weather tight seal.

You can also see how the routed track and foam gasket rounds the corner for a continuous seal throughout the corner assembly.